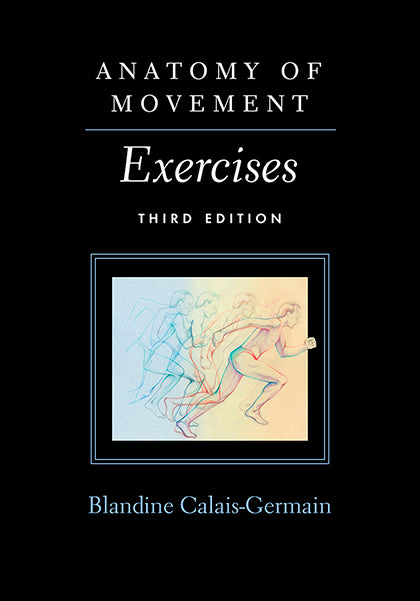 282 pages, 7" x 10"
800 drawings
Smyth-sewn softcover
ISBN: 978-0939616-88-6
Anatomy of Movement: Exercises (Third Edition)
About eBook Format
PDF

This eBook is available exclusively as a PDF and is readable with the free Javelin PDF Reader, accessible from your Account page after purchase. See eBook FAQs for details.
Description
Anatomy of Movement: Exercises, the companion volume to Anatomy of Movement, describes and illustrates, through hundreds of drawings, a comprehensive series of exercises involving the most common movements of the body. All of the illustrations were updated in this third edition, and the photographs replaced with new illustrations. 
The exercises were chosen on the basis of their effectiveness and with concern for their safety. Some are designed to focus on strengthening a particular region or muscle group, others the entire body. Each exercise prepares the body to respond well to the demands of particular movements. Together they serve as a basis for the more specialized movements associated with various physical disciplines and therapies.
Presentation follows the sequencing in Anatomy of Movement. For each body region the authors describe characteristic movements; potential sources of stiffness or laxity and how to detect, prevent and overcome them; how to strengthen specific muscles or muscle groups; and how to coordinate movements. This is followed by "practice pages" on which specific exercises are demonstrated.
Contents
Preface & Introduction 
The Trunk & Neck 
The Shoulder 
The Elbow & Forearm 
The Wrist & Hand 
The Hip 
The Knee 
The Ankle & Foot 
Coordination of Hip, Knee & Foot 
Index
Reviews
"Anatomy of Movement and Anatomy of Movement: Exercises describe the bones, muscles and joints, how they move, how to exercise specific and coordinated parts--with illustrations, photos and text that make it comprehensible even to someone like me, who's taken nary a class in anatomy, physiology or kinesiology."
—Molly Martin, Pacific Magazine
"For the client who asks for stretches or exercises to do, there is sure to be something appropriate [here], and the photographs simplify explanation. The practice pages and coordination exercises offer plenty of inspiration for movement sessions as well."
—Rolf Lines
---
Other Titles by Blandine Calais-Germain