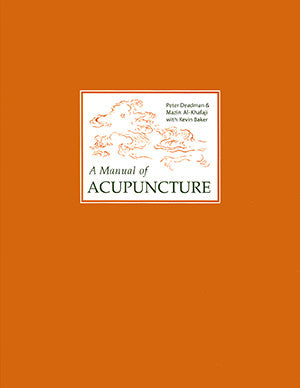 670 pages
8-1/2" x 11"
500 illustrations
Cloth
ISBN: 0-9510546-5-1
978-0-9510546-5-9
A Manual of Acupuncture (2nd Edition)
Description
Once in a great while an extraordinary book is published that sets an entirely new standard in its field. A Manual of Acupuncture, published by Journal of Chinese Medicine Publications, is just such a book. Painstakingly researched over many years by Peter Deadman, editor-in-chief of The Journal of Chinese Medicine, and colleagues Mazin Al-Khafaji and Kevin Baker, this book has become the primary reference in the West for the study of acupuncture points and channels.
With the subtle use of color to illustrate the acupuncture points and anatomical features, the new second edition of A Manual of Acupuncture is even more attractive and user-friendly than the first. 
Introductory chapters describe and illustrate the channels and collaterals, the various categories of points, and methods of selection, location, and needling. Ensuing chapters present each of the points of the 14 channels as well as the extra (miscellaneous) points, identified by their English and pinyin names, and Chinese characters. Each point is located in accordance with the most exacting anatomical standards to be found in any Western textbook.
For each point there is a dedicated drawing, followed by regional body drawings. The quality of the 500 drawings is far superior to those in any other TCM text. There are also practical pointers for finding and needling the points, and cautionary information about what to avoid. In addition to point indexes by their English and pinyin names, there is an index identifying every part of the body reached by each of the channels, and separate indexes of point indications listed according to both TCM and biomedical symptoms.
Please also see the Acupuncture Point Cards, the companion card set to A Manual of Acupuncture, and A Manual of Acupuncture CD-ROM.
Contents
Physiology & pathology of the channels & collaterals (primary, divergent, extraordinary, connecting, and cutaneous regions)
Location, actions, indications, precautions & combinations for each of the points
500 anatomical drawings of individual and regional point locations
Historical commentaries on properties and combinations of points
Special point categories
Needling methods
Glossary
Multiple indexes for points & indications Indices
Reviews
"In A Manual of Acupuncture, Deadman and crew have created one of the treasures in the world of acupuncture. . . It is somewhat reminiscent of the Physician's Desk Reference. . . This book is exhaustive, but every page just screams quality. . . [It] rates a '10' only because I can't give it a higher rating. 10+++++."
—Acupuncture Today
"The definitive, most authoritative book on points in English: scholarly, complete, and detailed."
—Giovanni Maciocia
---
Other Titles by the Authors