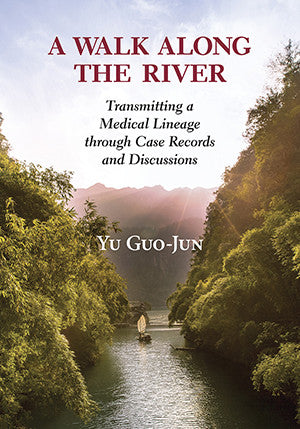 247 pages
Smyth-sewn softcover
ISBN: 0-939616-85-8
978-0-939616-85-5
A Walk Along the River: Transmitting a Medical Lineage through Case Records and Discussions
About eBook Format
PDF

This eBook is available exclusively as a PDF and is readable with the free Javelin PDF Reader, accessible from your Account page after purchase. See eBook FAQs for details.
Description
A Walk Along the River is a collection of case studies from the practice of Yu Guo-Jun and his teacher, Jiang Er-Xun, a modern-day master of classic formulas. Dr. Yu is a prominent physician-scholar of traditional Chinese medicine in the city of Leshan in Sichuan province. In cases ranging from coughs, palpitations, and dizziness to vomiting, depression, and skin issues, Dr. Yu provides incisive and practical advice on the process of diagnosis. He also shares his experience and that of his lineage of teachers on how to use the rich materia medica of Chinese medicine to achieve the best results. 
The case studies are presented as part of an ongoing workshop in the form of a dialogue between Dr. Yu and other experienced physicians. In lively back and forth discussion, questions are asked that would likely occur to practitioners in the West, and Dr. Yu is pressed to explain, and often defend, his methods and choices. This produces a more three-dimensional view of how skilled practitioners in modern China deal with a range of topics, from specific treatment approaches to the issues that occur when engaging the Chinese medical tradition.
A Walk Along the River is a rare view into the processes by which experienced practitioners think about medicine and how it is transmitted across the generations. It is a treasure trove of insights and treatment approaches including many that are not found in standard textbooks.
Interview with Michael FitzGerald (MP3 podcast) - A Walk Along the River translator Michael FitzGerald in conversation with Michael Max, discussing the translation process, Dr. Yu's methods, and more.
Contents
Translators' Foreword
Preface
INTERNAL MEDICINE 
CHAPTER 1: Lung System Disorders
CHAPTER 2: Heart System Disorders
Palpitations
Insomnia
Supplement: On the question of toxicity and dosage of Pinelliae Rhizoma (bàn xià)
CHAPTER 3: Spleen and Stomach System Disorders
Epigastric pain
Focal distention and fullness
Gastric prolapse
Abdominal distention
Vomiting
Constipation
CHAPTER 4: Liver and Gallbladder System Disorders
Costal pain
Liver abscess
Headaches
Dizziness
Constraint
Bitter taste
CHAPTER 5: Kidney System Disorders
Urinary tract stones
Impotence
Umbilical pain
CHAPTER 6: Disorders of the Body Structure and Channels
Atrophy
Painful obstruction
EXTERNAL MEDICINE
CHAPTER 7: Skin Disorders
Herb Index
Formula Index
General Index
Translators
Reviews
"As I read A Walk Along the River, I felt as if I were sitting with Dr. Yu in his clinic. In a warm and personable style, he goes over each case in wonderful detail. The whole text is written in a conversational style with other physicians asking questions of Dr. Yu. Each time I found myself a bit confused, the very question I pondered would be asked and answered with precision. He gives us a true transmission of the kinds of details that make all the difference for clinical efficacy from his wealth of clinical experience. Practitioners will want to read it cover to cover to integrate every jewel."
—Sharon Weizenbaum
"If you use Chinese herbs in decoction as a primary form of treatment, drop everything and run out to buy this book. WAIT! Better call ahead to make sure the bookshop still has a copy."
—Steve Clavey, The Lantern
"I unhesitatingly recommend [this book] as an addition to the library of any serious practitioner. For no matter how experienced or well-read you may be, I am certain this book will improve your skills and clinical outcomes. ... The primary readership to whom this book addresses itself ... are clinicians keen to become better practitioners. There are few books I can think of more suited to moving closer to this goal. Whether it is to gain access to its many clinical nuggets or because in Dr. Yu it provides us with a model of the kind of Chinese medicine we might ourselves aspire to, do go and buy A Walk Along the River. I guarantee you will not be disappointed."
—Volker Scheid, The Register of Chinese Herbal Medicine Journal (U.K.)
---