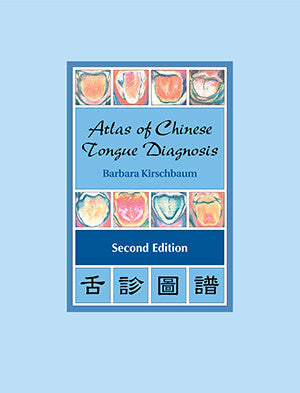 300 pages, 8-1/2" x 11"
Over 200 color photos
Smyth-sewn hardcover
ISBN: 0-939616-71-8
978-0-939616-71-8
Atlas of Chinese Tongue Diagnosis (2nd Edition)
About eBook Format
PDF

This eBook is available exclusively as a PDF and is readable with the free Javelin PDF Reader, accessible from your Account page after purchase. See eBook FAQs for details.
Description
Tongue diagnosis is a vital instrument used in Chinese medicine both to assess the current health of a patient and to provide a basis for prognosis. It also informs the practitioner about the underlying strength or weakness of the patient's constitution.
This new edition of Atlas of Chinese Tongue Diagnosis contains over two hundred color photographs of tongues seen in a Western clinic. The photos provide a graphic representation of a wide variety of common disorders. Each photograph is accompanied by a description of the significant features of the tongue, the corresponding Chinese diagnosis for each feature, accompanying symptoms, Western diagnosis, and pertinent background information. The sequence of the photos within a chapter shows the increasing degree of imbalance among the body's energies. 
The presentation of the tongues is organized according to the nature of the underlying organ disharmony: Lungs, Spleen, Stomach, Kidney, Heart, Liver. Other chapters focus on particular aspects of the tongue such as pale tongues, cracked tongues, special coatings, as well as those associated with heat disorders and blood stasis. A final chapter surveys several cases that reflect how the tongue changed over the course of treatment, with before and after photographs. This systematic presentation provides the student and practitioner with a much deeper understanding of the methodology of tongue diagnosis in Chinese medicine.
This new second edition of the Atlas combines and reconfigures the content of the two volumes in the original edition into one new, integrated volume. The new edition retains most of the photos from the first volume and a number of case histories from the second. A few new photos that are particularly good examples of specific tongue colors or other signs have also been added. At the same time, some of the photos and case histories in the original volumes have been discarded to enhance the readability of the book and thus make it more useful as a single volume reference work.
An extensive and detailed index provides access to virtually every aspect of the hundreds of tongues presented in this atlas, and their interrelationships.
Contents
Ch. 1 The Foundations of Tongue Diagnosis 
Ch. 2 Pale Tongue Signs 
Ch. 3 Tongue Signs Associated with Kidney Disharmonies 
Ch. 4 Tongue Signs Associated with Stomach Disharmonies 
Ch. 5 Tongue Signs Associated with Lung Disharmonies 
Ch. 6 Tongue Signs Associated with Heart Disharmonies 
Ch. 7 Tongue Signs Associated with Liver Disharmonies 
Ch. 8 Tongue Signs Associated with Blood Stasis 
Ch. 9 Tongue Signs Associated with Heat Disorders 
Ch. 10 Tongue Coatings 
Ch. 11 Special Tongue Signs
Reviews
"An excellent clinical manual for this important aspect of diagnosis, enriched by many case histories and photos."
—Giovanni Maciocia, author, Tongue Diagnosis in Chinese Medicine
"A good example of the new generation of textbooks which are based on experience treating Western patients. Reading this book has rekindled my interest in looking closely at tongues."
—Julian Scott, author, Acupuncture in the Treatment of Children
"The quality of the photographs and color reproduction here are quite exceptional … the best I have seen in any book on tongue diagnosis. To see tongues of real patients described and analyzed by an expert in the field is invaluable."
—The Journal of Chinese Medicine
---