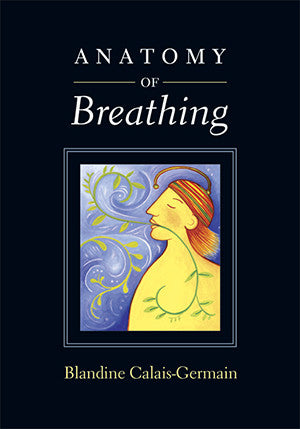 232 pages, 7" x 10"
Over 300 illustrations
Smyth-sewn softcover
ISBN: 0-939616-55-6
978-0-939616-55-8
Anatomy of Breathing
About eBook Format
PDF

This eBook is available exclusively as a PDF and is readable with the free Javelin PDF Reader, accessible from your Account page after purchase. See eBook FAQs for details.
Description
"My hope is that [this book] will contribute to a more enlightened practice of breathing. I also hope that you, the reader, will have a better understanding of how breathing changes spontaneously from moment to moment. My other wish is that you will discover how to consciously choose a specific breathing technique for certain purposes or circumstances." —Author's Preface
Everyone breathes, yet few of us understand how to consciously control breathing to improve our well-being and the quality of many daily activities. Anatomy of Breathing is a clear and helpful guide to both the theory and practice of breathing in its many variations. 
Hundreds of expert drawings along with easy-to-understand text help you explore just how breathing works. Once you're acquainted with the principal organs, structures, and forces that affect breathing, you will learn how to control them to enhance the quality and variety of breathing in your own life. Along the way, you will also correct many common misconceptions about breathing.
Anatomy of Breathing is filled with helpful practice pages. Here you will learn simple exercises to prepare your body for the benefits of different types of breathing. You will then be shown, step by step, how to practice some of the most common and useful breathing techniques on your own.
Anatomy of Breathing is a unique and wonderful resource for anyone who wishes to understand the science and art of breathing, and how to make their own breathing better and more life-enhancing.
Contents
Initial Observations About the Act of Breathing 
Anatomical Pages 
The Skeleton's Role in Breathing 
Respiratory Organs 
Respiratory Muscles 
The Principal Forces Involved in Breathing 
Forces Affecting Respiratory Volumes 
Relationships Among Anatomical Structures Involved in Breathing 
Analysis of the Principal Types of Breathing 
Practice Pages
Reviews
"Anatomy of Breathing and The Female Pelvis should reside on every bodyworker's bookshelf. After being read cover to cover, they will continue to be a very valuable source of information, illustration, and practice exercises to help the practitioner connect with clients. In addition, practitioners could easily recommend that clients read either of these books on their own to further acquaint themselves with their functional anatomy, as both books are written for the non-medical person."
—Structural Integration
---