Save
20%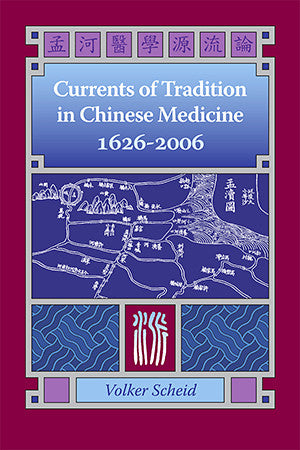 564 pages, 6" x 9"
85 photos and illustrations
Smyth-sewn softcover
ISBN: 0-939616-56-4
978-0-939616-56-5
Currents of Tradition in Chinese Medicine 1626 to 2006
About eBook Format
PDF

This eBook is available exclusively as a PDF and is readable with the free Javelin PDF Reader, accessible from your Account page after purchase. See eBook FAQs for details.
Description
In 1626, a young man named Fei Shangyou moved his family to Menghe, a small town in the Yangzi delta of China. According to family legend, he abandoned his career as a scholar and began working as a physician. In doing so, he founded a medical lineage that continues to the present day. This book describes the development, flourishing, and decline of this lineage and its many branches, as well as that of the other medical lineages and families with which it merged over time to form the "current of Menghe learning" (Menghe xuepai). 
This current and its offshoots produced some of the most influential physicians in the Chinese medical tradition during the 19th and 20th centuries. Menghe physicians, their disciples and students treated emperors, imperial mandarins, Nationalist Party generals, leading figures in the Communist Party, affluent businessmen, and influential artists.
In late imperial China, Menghe medicine was a self-conscious attempt to unite diverse strands of medical learning into one integrated tradition centered on ancient principles of practice. In Republican Shanghai, Menghe physicians and their students were at the forefront of medical modernization, establishing schools, professional associations, and journals that became models for others to follow. During the 1950s and 1960s, the heirs of Menghe medicine were key players in creating the institutional framework for contemporary Chinese medicine. Their students are now practicing all over the world, shaping Chinese medicine in Los Angeles, New York, Oxford, Mallorca, and Berlin.
The history of the Menghe current is relevant to anyone interested in the development of Chinese medicine in late imperial and modern China. This book traces Chinese medical history along the currents created by generations of physicians linked to each other by a shared heritage of learning, by descent and kinship, by sentiments of native place as well as nationalist fervor, by personal rivalries and economic competition, by the struggle for the survival of tradition and glorious visions of a new global medicine.
On the level of both theory and practice, this history marks a departure from the focus on texts and ideas that has dominated Western engagement with Chinese medicine to date. Its goal is to locate medicine within the concrete lives of physicians and their patients, restoring an agency to their actions that easily gets lost in our search for the forces or structures that shape historical process. To this end, the author interweaves social history and medical case studies, ethnography and biography to narrate a story of Chinese medicine that is very different from any that has been told before.
Contents
Part 1 Late Imperial China
Economy and Society in Late Imperial China: Jiangnan, Wujin, and Menghe 
The Scholarly Medical Tradition in Late Imperial China: Origins, Problems, and New Departures 
The Origins of Menghe Medicine 
The Flourishing of Menghe Medicine 
Medical Lineages and Master Disciple Networks: The Eastward Spread of Menghe Medicine 
Fei Boxiong and the Menghe Medical Style
Part 2 Republican China
Chinese Medicine in Shanghai: Native Place and the 
The Modernization of Chinese Medicine in Republican China: From Medical Reform to Medical Revolution 
The Birth of the Menghe Current: Ding Ganren and the Transformation of Chinese Medicine in Republican Shanghai 
From Shanghai to New York: Ding Family Medicine after Ding Ganren 
The Development of Ding Family Medicine: Clinical Efficacy and Personal Identity
Part 3 Contemporary China
Chinese Medicine in Maoist and Post-Maoist China: The Institutionalization of Tradition and Its Discontents 
Inheriting and Developing Tradition: Three Exemplary Biographies 
Wujin Medicine Remembered: Tradition and the Labor of Social Memory
Reviews
"A superb study that speaks both to medical historians and anthropologists, and to the increasingly globalized communities of contemporary practitioners of Chinese medicine. Scheid's work is unique in integrating a subtle understanding of historical multiplicity with insights based on his own clinical experience."
—Charlotte Furth, Professor of Chinese History, University of Southern California
"At the beginning of this astonishing book, Volker Scheid raises the most fundamental, most daunting questions in medical history: First, what is a medical tradition? What makes us see stable structures in a world where the only constant rule is change? What maintains them in a society where medicine was not an organized profession? What gives birth to such a tradition? How does it die? . . . Currents of Tradition in Chinese Medicine grapples on every page with these practically unexamined questions, and develops as convincing a set of answers as we are likely to have for a long time."
—From the Foreword by Nathan Sivin, Professor of Chinese Culture and the History of Science, University of Pennsylvania
"Combines sophisticated arguments about social processes and processes of remembering with the specific histories of individual physicians and their colleagues, patients, aspirations, and clinical styles. . . . Historians, anthropologists, practitioners and patients will all find gems that please them in this remarkable new contribution to the field."
—Marta Hanson, Assistant Professor, Department of History of Medicine, Johns Hopkins University
"This book fills an important gap. There are few works available on the history of Chinese medicine, the development of the Chinese medical tradition and the transmission of medical knowledge in China. It is an essential point of reference for any practitioner of Chinese medicine who wants to reach beyond the narrow circle of knowledge acquired in the course of gaining a professional qualification, and who wants at least to try to connect with his or her 'ancestors.' It is also relevant because it reveals the fragility of the Chinese medical tradition, something we might not have suspected or thought about. It is as fragile as memory itself. And thus we have the responsibility of keeping it alive."
—Olga Fedina, European Journal of Oriental Medicine
"Those interested in the history of the multifaceted tradition of Chinese medicine will find this an intriguing look behind the veil of current orthodoxy to a practice where, for example, self-cultivation could form the basis for clinical efficacy. An inspiring book."
—Steve Clavey, author, Fluid Physiology and Pathology in Traditional Chinese Medicine
"As a student of Qin Bowei, and therefore part of the Menghe tradition myself, I wholeheartedly recommend this text as an introduction to the depth of the Chinese medical tradition."
—Wu Boping, Professor, China Academy of Chinese Medical Sciences
"Currents of Tradition in Chinese Medicine is essential reading for anyone seeking a nuanced understanding of Chinese medicine and the social dynamics that have shaped it over time."
—Yi-Li Wu, Bulletin of the History of Medicine
---