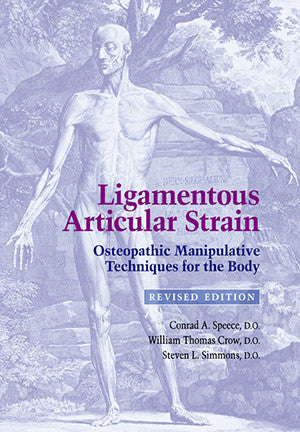 184 pages, 7" x 10"
112 illustrations & photos
Smyth-sewn softcover
ISBN: 0-939616-63-7
978-0-939616-63-3
Ligamentous Articular Strain: Osteopathic Manipulative Techniques for the Body: Revised Edition
Description
The osteopathic profession has developed many treatment modalities and approaches to manipulation. Ligamentous articular strain is the name given by William G. Sutherland, D.O., the founder of cranial osteopathy, to a group of techniques that he used for treating the body outside the core axis of the craniosacral system. The term has since come to refer to a wide variety of techniques that engage the body's own healing mechanisms in a relatively direct manner. 
For over thirty years the Dallas Osteopathic Study Group, originally under the tutelage of Rollin Becker, D.O., has been exploring this type of manipulation. Ligamentous Articular Strain is the distillation of their work. The introductory chapters address the historical development of this approach, and review some of its scientific underpinnings. The remaining chapters are devoted to an examination of the body, area by area, from the feet to the shoulders, describing and depicting effective manipulative techniques.
Ligamentous Articular Strain provides clear instructions and vivid illustrations which will enable the trained practitioner to quickly gain proficiency in these techniques. It also presents a cogent approach to working with the concepts of the key lesion and the bowstring, first developed by Rollin Becker.
In this revised edition, over a hundred new illustrations graphically depict the techniques described in the book, and minor changes have been made to update the text.
Contents
Introduction 
History 
The Scientific Basis and Principles Underlying Ligamentous Articular Strain 
The Lower Extremities 
Pelvis and Lower Abdomen 
Abdomen and Thorax 
Spinal Column 
Upper Extremities 
Key Lesion 
Bowstring 
Coordinating the Eight Diaphragms 
Conclusion 
Index
---