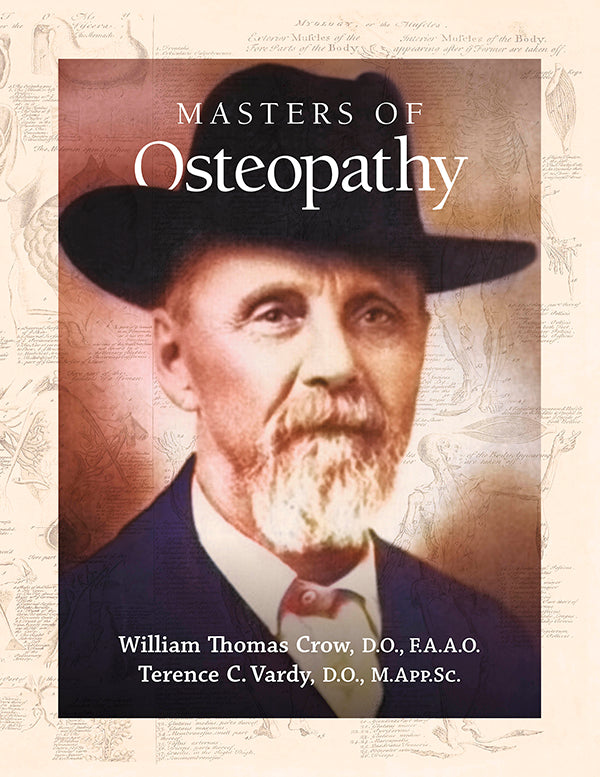 265 pages, 8.5" x 11"
355 photographs
Hardcover
ISBN: 978-0-939616-87-9

Masters of Osteopathy
About eBook Format
PDF

This eBook is available exclusively as a PDF and is readable with the free Javelin PDF Reader, accessible from your Account page after purchase. See eBook FAQs for details.
Description
This book is a compilation of the philosophy and techniques of the early masters of osteopathy, from A.T. Still to William Sutherland, Anne Wales to Carl Philip McConnell, and many others. Much of this philosophy, and many of the techniques, are no longer taught in current courses at osteopathic schools.
In writing this book, the authors accessed many old journals, books, and videotapes of the early generations of osteopaths, and spent time with some of the older doctors, harvesting their knowledge before they passed on. The book is therefore a unique and extremely valuable collection of their ideas and techniques, as relevant and effective today as they were for patients in the past.
To better understand how to apply each of the techniques and their underlying philosophy, the authors have provided step-by-step instructions, with photographs, and a clear description of hand holds and force vectors. By understanding the principles upon which the techniques are based, practitioners can adapt them to their own style and physique.
Access to a website containing video demonstrations of each of the 166 techniques shown in Masters of Osteopathy is separately available from Osteopathic Masters Techniques.
Contents
Introduction
Acknowledgements
Source Materials
Chapter 1 The Philosophy of the Osteopathic Masters in Their Own Words
Chapter 2 Techniques for the Head
Chapter 3 Techniques for the Cervical Region
Chapter 4 Techniques for the Thoracics
Chapter 5 Techniques for the Ribs
Chapter 6 Techniques for the Lumbar Region
Chapter 7 Techniques for the Sacrum and Pelvis
Chapter 8 Techniques for the Lower Extremities
Chapter 9 Techniques for the Upper Extremities
Chapter 10 Techniques for the Viscera
• The Respiratory System
• The Cardiovascular System
• The Gastrointesintal System
• The Genitourinary System
Chapter 11 Women's Health
Chapter 12 Pediatrics
Chapter 13 Dr. Fulford's 'Putting it all Together'
General Index
About the Authors
View a detailed table of contents (PDF)
Reviews
"I am sending you this note to tell you how much I have enjoyed going through this volume. As a perspective on osteopathic approaches, I think this is exceptional!"
— Anthony G. Chila, D.O., F.A.A.O., Dist., F.C.A.
"Masters of Osteopathy by Crow and Vardy demonstrates how much we still know and yet, how much we have forgotten in the realm of Osteopathic Manipulative Medicine. The authors bring back a number of original techniques that can be used safely and effectively for conditions affecting the regions covered in this text. As an author and teacher of Osteopathic Medicine, it is always refreshing to see the origins of our manipulative armamentarium!"
— Alexander S. Nicholas, D.O., F.A.A.O., Dist.
Professor and Chair, Department of Osteopathic Manipulative Medicine, Philadelphia College of Osteopathic Medicine
---