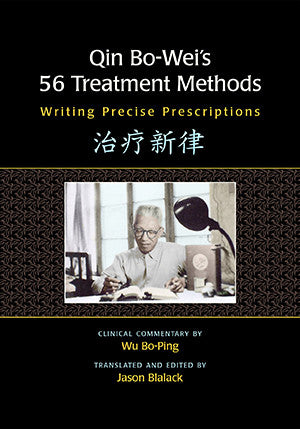 384 pages, 7" x 10"
Smyth-sewn softcover
ISBN: 0-939616-74-2
978-0-939616-74-9

Qin Bo-Wei's 56 Treatment Methods: Writing Precise Prescriptions
About eBook Format
PDF

This eBook is available exclusively as a PDF and is readable with the free Javelin PDF Reader, accessible from your Account page after purchase. See eBook FAQs for details.
Description
In the spring of 2007, Jason Blalack asked his mentor, Wu Bo-Ping, what was the most important Chinese medical text to translate into English. After a few moments of thought, Dr. Wu presented Jason with a tattered paperback copy of the original edition of Qin Bo-Wei's New Guidelines for Treatment (c. 1953), a manuscript that for all intents and purposes had been lost during the Cultural Revolution. That is the text that forms the framework of this exciting new book.
Qin Bo-Wei (1901-1970) was among the most important physicians of the modern era. As a prominent clinician, educator, and scholar, he worked to integrate classical schools of thought and created one of the most coherent systems for understanding Chinese medicine during a critical time of intense turbulence in China's history. Wu Bo-Ping was one of Dr. Qin's students and is among the few who are still living today.
Translated and presented to a Western audience for the first time, Qin's original work is enriched by Dr. Wu's extensive commentary, which transforms it into a hands-on guide on how to effectively practice herbal medicine. 
An excellent clinical manual, this book primarily teaches a method of thinking that serves as a foundation for a lifelong approach to herbal medicine. An understanding of how to use the core concepts presented here allows one to effectively treat the majority of diseases seen in the contemporary clinic.
The text itself is unique in its presentation and differs from other clinical manuals in a number of ways:
Organized by treatment method. Teaches a way of emulating the thought underlying a prescription without being tied to its specified ingredients or original indications, thereby reflecting the thinking of Chinese medicine's greatest clinicians. Ultimately, this approach opens up treatment possibilities that are often ignored in conventional textbooks. 
Small number of ingredients. Dr. Qin's prescriptions contain a small number of precisely combined ingredients, administered in small doses. 
Explains how to use processed medicinals. The book provides detailed explanations about how to use processed medicinals. 
Based on influential lineage. This text imparts a wealth of clinical knowledge rooted in the tradition of an influential Chinese medicine lineage.
Reviews
 "This book is a major step in the dissemination of Qin Bo-Wei's ideas. Perhaps more importantly, it represents a highly refined vision of how Chinese medicine can be understood in the West. Here we are presented with much more than a list of signs and symptoms linked to a pattern, which in turn is linked to a fixed formula. Instead, this book illustrates the nuances inherent in every step of the diagnostic and treatment process."
—Charles Chace, author of A Qin Bowei Anthology
"Particularly noteworthy are the discussions of pathology with their emphasis on understanding and diagnosing the location of disease processes in specific locations of the body, and the sophisticated use of medicinals. … This is particularly relevant in order to make sure that medicinals work upon the body regions they are intended to. … There is nothing else available in the English language literature that I know of that comes even close and this information alone makes the book a "must buy" for any serious practitioner. Add to this the clinical experience of two master physicians, the clarity with which Jason Blalack makes that experience accessible, and the immediate translatability of what is discussed to virtually any situation one might encounter in clinical practice and it becomes an absolute bargain.
"Beyond the clinical value of this text, Wu Boping and Jason Blalack make a significant contribution in bringing to us the kind of original material that is necessary for engaging in these discussions. For all those reasons, this is my Chinese medicine book of the year."
—Volker Scheid, Register of Chinese Herbal Medicine
---
Other Titles from Eastland Press