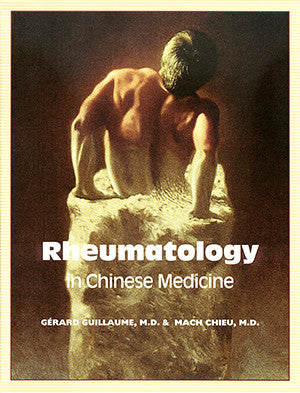 426 pages, 8-1/2" x 11"
Illustrated
Smyth-sewn softcover
ISBN: 0-939616-39-4
978-0-939616-39-8
Rheumatology in Chinese Medicine
Description
Rheumatology in Chinese Medicine is now available in a durable softcover edition.
While rheumatological disorders (e.g., joint and other musculoskeletal pain) are perhaps the most commonly seen problems in clinics of Chinese medicine, until now there has been no comprehensive book on this important subject. Rheumatology in Chinese Medicine is the first of its kind in any language. 
The subject is presented in four parts:
PART ONE lays the groundwork for the traditional Chinese approach to rheumatology, including a discussion of the makeup of the human organism and the interaction between movement and the channels. 
PART TWO is a translation of the chapters on painful obstruction (bi) and lower back pain from one of the best modern Chinese texts on internal medicine. 
PART THREE presents the authors' own approach to rheumatological disorders, which utilizes many aspects of the modern French energetic acupuncture models, including barrier and trigger points. 
PART FOUR contains a rich selection of translations from a dozen premodern classical texts regarding rheumatological disorders.
Contents
The Concept of Rheumatism in Traditional Chinese Medicine: Energetic Body & Locomotor System, The Channels, Etiological Factors in Traditional Chinese Medicine, Pain 
Traditional Approaches to Rheumatology in Modern China: Painful Obstruction, Panarthralgia Disorder, Lower Back Pain 
Clinical Practice of an Acupuncturist in Rheumatology: Painful Obstruction Disorders, Chronic Polyarticular Painful Syndromes, Degenerative Joint Disease, Rheumatoid Arthritis, Ankylosing Spondylitis, Postmenopausal Osteoporosis, Gout, Sciatica, Neck Pain, Shoulder Pain, Elbow Pain, Wrist & Hand Pain, Hip Pain, Knee Pain, Foot Pain 
Classic Texts in Traditional Chinese Medicine: Selections on Rheumatology & Related Subjects 
Refereneces: Supplemental Materia Medica, Bibliography 
Multiple Indices
Reviews
"Essential for all acupuncturists . . . Destined to be another English TCM classic."
—Bastyr University Library Letter
"Sets a new standard for English-language textbooks in all Chinese medical specialties. I know I am not alone in my belief that the future of Chinese medicine is in the West. If this is true, then a revolution must occur in its literature as well, and Rheumatology in Chinese Medicine is at the leading edge of that change."
—Charles Chace, L.Ac., in The Journal of Chinese Medicine
"A generous gift to the next generation of acupuncturists."
—Joseph Helms, M.D., Author, Acupuncture Energetics
"Those of us who treat arthritic and rheumatic conditions know what difficult cases they are, especially when they stop improving. This book, with its roots in the classics, will give a whole new dimension to future treatments."
—The European Journal of Oriental Medicine
---
Other Titles from Eastland Press