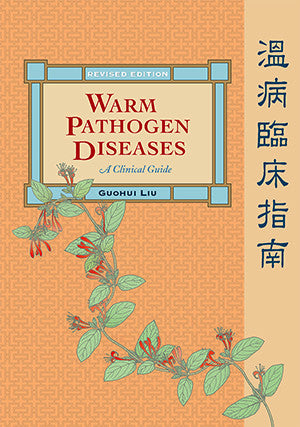 576 pages, 7" x 10"
Cloth
ISBN: 0-939616-45-9
978-0-939616-45-9
Warm Pathogen Diseases: A Clinical Guide (Revised Edition)
About eBook Format
PDF

This eBook is available exclusively as a PDF and is readable with the free Javelin PDF Reader, accessible from your Account page after purchase. See eBook FAQs for details.
Description
The understanding and treatment of infectious and other externally-contracted diseases has been a central concern of Chinese medicine for millennia. Especially during the past few centuries, the concepts and treatment approaches of the warm pathogen disease school have percolated throughout Chinese medical thought. Modern practitioners apply them in the diagnosis and treatment of a wide variety of serious illnesses, including many which are common in the West, such as auto-immune disorders. 
Warm Pathogen Diseases: A Clinical Guide (Revised Edition) provides an in-depth, clinically oriented approach to this important subject. The introductory chapters tell the compelling story of how traditional Chinese physicians, primarily from the seventeenth through the nineteenth centuries, developed the theories and concepts of warm pathogen disease in response to the health crises of their time, which included a number of epidemics. The evolution of their approach to etiology, pathogenesis, diagnosis, and treatment, discussed in this volume, demonstrates how traditional medicine has evolved to meet contemporary needs.
The second part of the book describes the various types of warm pathogen disease from a clinical perspective. Here the author discusses the manifestations, pathogenesis, treatment principles, and formulas for each type. Case histories show how theory is actually applied in the clinic. A variety of approaches is presented, which avoids the tendency to portray traditional Chinese medicine as an unchanging, monolithic entity. Over time, these differences have led to much creative foment and improvement in the efficacy of treatment. The author also addresses aspects of dosage and preparation that are generally omitted from standard textbooks. This part of the book will be particularly welcome to practitioners, who will find it useful in the clinic.
Rounding out the volume is an extensive bibliography of original source materials, supplemental case histories and materia medica, and detailed indexes which provide access to every aspect of this subject.
Note to Revised Edition
The changes in this edition include updating both the pharmaceutical and pinyin names of the herbs, formula names, addition of tone marks to herb and formula pinyin names, and new translations of book titles. There are also a few changes in terminology, most notably, warm disease is now warm pathogen disease, and warm-febrile disease is now warm-heat pathogen disease.
Contents
Foreword 
Note to Revised Edition 
Preface 
Chapter 1 Historical Development of Warm Pathogen Disease Theory 
Chapter 2 General Description of Warm Pathogen Diseases 
Chapter 3 Etiology, Onset, and Pathogenesis of Warm Pathogen Diseases 
Chapter 4 Differentiation of Patterns According to the Theories of Four Levels and Three Burners 
Chapter 5 Diagnosing Warm Pathogen Diseases 
Chapter 6 Treatment Methods for Warm Pathogen Diseases 
Chapter 7 Wind-Warmth 
Chapter 8 Spring-Warmth 
Chapter 9 Autumn-Dryness 
Chapter 10 Warm-Toxin 
Chapter 11 Summerheat-Warmth 
Chapter 12 Damp-Warmth 
Chapter 13 Lurking Summerheat 
Bibliography 
Appendix A: Table of Chinese Dynasties 
Appendix B: Table of Authors 
Appendix C: Supplemental Materia Medica 
Appendix D: Case Studies 
Appendix E: Pinyin-English Cross Reference of Formula Names 
Formula Index 
Materia Medica Index 
General Index
Reviews
"Warm Diseases: A Clinical Guide establishes a critical link between warm disease theory and clinical practice. Above and beyond its comprehensive coverage of warm disease patterns, the Clinical Guide provides detailed information on the dosing and administration of herbal formulas that is so essential to effective therapy. All in all, Warm Diseases: A Clinical Guide contains some of the most practical information I have seen in any textbook of Chinese medicine."
—Charles Chace, L.Ac.
"One of the best Chinese medicine books to be published in English. Finally we have a book that puts it all together—theory, practice, historical perspective—written by an experienced practitioner and teacher. Just when you thought that Chinese medicine simply couldn't be transmitted in English, a book like this comes along. . . Warm Diseases shows us how a skillful writer and publisher can create an instant classic. . . This book reads like that class you wish you had in [warm diseases]"
—Douglas Eisenstark, Acupuncture.com
"I warmly recommend this book to anyone interested in warm diseases. For the foreseeable future it will be the definitive English language textbook on the topic, but it is more than that . . . a guide into a field of medicine that no serious practitioner of Chinese medicine should be without."
—Foreword by Volker Scheid, Ph.D.
"Warm Diseases: A Clinical Guide is the best English introduction to warm disease theory to date. Liu's scholarly interests and clinical abilities equip him well for the task of portraying the deeper strata of Chinese medicine, and his mindfulness about the psychology of the Western reader makes this an entertaining work that goes well beyond the common approach of the Chinese medical textbook translation."
—Heiner Fruehauf, Chair of the Department of Classical Chinese Medicine, National College of Naturopa
"Warm Diseases: A Clinical Guide is a most impressive book. . . . I find it to be well laid out, well bound, well referenced, and full of information. Dr. Liu has obviously spent a lot of time putting this information together so I would encourage all serious practitioners to get it and read it."
—Pacific Journal of Oriental Medicine
"Establishes a critical link between warm disease theory and clinical practice. Provides detailed information on the dosing and administration of herbal formulas that is so essential to effective therapy. Contains some of the most practical information I have seen in any textbook of Chinese medicine."
—The European Journal of Oriental Medicine
"What sets this book apart from many others in our field is that Dr. Liu shares his own clinical insights with the reader as he develops an overall structure within which we can view these ideas."
—The Journal of Chinese Medicine
---