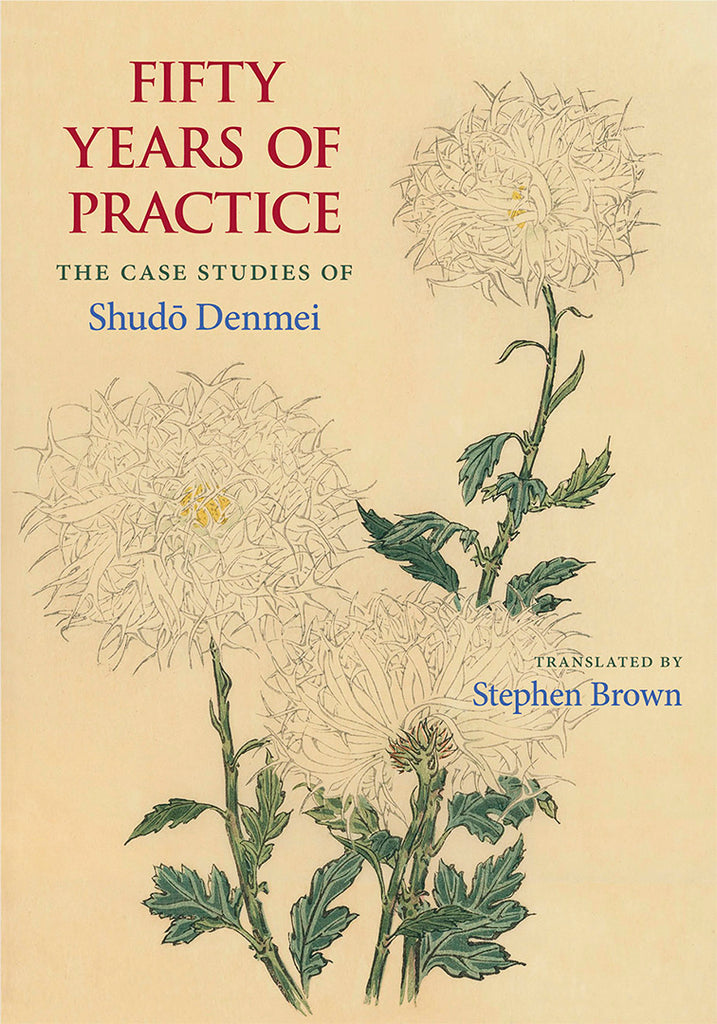 406 pages, 7" x 10"
Smyth-sewn softcover
ISBN: 978-0-939616-98-5

Fifty Years of Practice: The Case Studies of Shudo Denmei
About eBook Format
PDF

This eBook is available exclusively as a PDF and is readable with the free Javelin PDF Reader, accessible from your Account page after purchase. See eBook FAQs for details.
Description
Capping a career that spans over five decades, Shudo Denmei, a leading teacher and authority on Meridian Therapy in Japan, has compiled 160 case studies that are representative of his practice of acupuncture and moxibustion and reflect the way that his practice has evolved.
Fifty Years of Practice: The Case Studies of Shudo Denmei is written as a guide for acupuncturists at various stages in their own practices. Dr. Shudo shares both his successes and failures, challenges and insights. It is a wide-ranging text, covering topics as varied as psychological and musculoskeletal. He reveals the entire process of his treatments from questioning to palpation diagnosis, and then to point selection and insertion technique.
The case studies are organized by categories of disorders and cover practically every type of condition that can be treated with acupuncture: musculoskeletal, circulatory, digestive, respiratory, urogenital, gynecological and others. Based on his deep knowledge of both Western and East Asian medicine, Dr. Shudo discusses the possibilities as well as the limitations of acupuncture and moxibustion. He shares an abundance of knowledge and wisdom with his trademark humor and humanity. This is an inspiring, clinically-oriented memoire of a master practitioner with a lifelong passion for the art of healing.
Contents
Translator's Foreword
Preface to English Language Edition
Introduction
Chapter 1: Diseases of the Cranium and Face
Chapter 2: Diseases of the Eyes, Ears, and Teeth
Q & A No. 1: Whether to treat one side or both sides
Chapter 3: Diseases of the Shoulders and Arms
Q & A No. 2: Retaining needles after SRT
Chapter 4: Diseases of the Low Back and Legs
Q & A No. 3: What does it mean to put your spirit into it?
Chapter 5: Leg Problems
Chapter 6: Joint & Connective Tissue Diseases
Chapter 7: Respiratory Diseases
Q & A No. 4: Tuberculosis and moxibustion
Chapter 8: Diseases of the Nose and Sinuses
Chapter 9: Circulatory Diseases
Q & A No. 5: Amount of stimulation and healing reactions (crises)
Chapter 10: Digestive Disorders
Chapter 11: Liver Diseases
Q & A No. 6: For which diseases is acu-moxa effective?
Chapter 12: Urogenital Diseases
Chapter 13: Gynecological Diseases
Q & A No. 7: How to prevent illness
Chapter 14: Other Diseases
Chapter 15: Conditions Helped by Acupuncture
Q & A No. 8: Treatment beyond knowledge or logic
Chapter 16: Special Considerations in Practice
Point Index
General Index
Review
"A significant part of the readability of Denmei Shudo's books is the self-effacing charm of his authorial voice. Despite his great skill and experience, he talks to the reader as practitioner to practitioner, without the grandiosity or esotericism to which exponents of traditional East Asian medicine (TEAM) are prone. In particular, the author is humble and honest about his own limitations, as well as those of acupuncture. This kind of information is clinical gold, especially for less experienced practitioners.
Whether or not you share Denmei Shudo's approach to acupuncture, his curiosity, diligence, rigour, humility and honesty mark him out as an exceptional practitioner and teacher. In a field such as acupuncture, where the subtlety inherent in the qi paradigm, coupled with the diversity of approaches available make deep understanding challenging, the sheer depth of clinical experience distilled into this text makes this book worthy of attention by all acupuncture practitioners."
—Daniel Maxwell, The Journal of Chinese Medicine
---