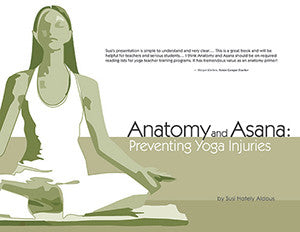 90 pages, 8-1/2" x 11"
95 illustrations
Spiral Bound
ISBN: 0-939616-54-8
978-0-939616-54-1
Anatomy and Asana: Preventing Yoga Injuries
About eBook Format
PDF

This eBook is available exclusively as a PDF and is readable with the free Javelin PDF Reader, accessible from your Account page after purchase. See eBook FAQs for details.
Description
Anatomy and Asana offers an easy and successful method to learn anatomy and its relationship to yoga in a way that helps prevent injuries. It is written by a certified yoga teacher with a diverse background in kinesiology, ergonomics, and physical rehabilitation.   
Anatomy and Asana answers many practical questions that are often asked by yoga students – about back pain, knee pain, and shoulder pain; about clenching the butt in back bends, and how to release the hamstrings or prevent hamstring tearing in forward bends. The book combines hands-on information with illuminating drawings, stories, and helpful tips to show you how to practice yoga with less pain. It informs without overwhelming the reader with too much information.
Anatomy and Asana is divided into four parts: basics of anatomy; language of anatomy and movement; the eight essential principles of movement as they relate to yoga; and application of these principles to specific groups of yoga asanas: standing poses, back bends, forward bends, twists, and inversions. For each group, the book shows where there is a tendency for injury and what you can do to instill space in your body and thereby prevent injury from occurring.
Contents
The Internal World
Skin
Connective Tissue 
Muscles 
Skeleton and Bones 
Nerves 
Fascia 
Circulation
Language of Anatomy
Anatomical Landmarks 
Anatomical Position 
Planes of the Body 
Movements of the Body 
Going Deeper: The Relationship between Muscles 
Mechanics of Muscle Contraction
Principles
Principles of Physiology 
Principles of Movement
Reviews
"Anatomy and Asana is profound in its simplicity. Yoga teacher trainees and instructors will find immense value in the precision with which information is presented and illustrated. Every yoga teacher training program should require this book in its curriculum."
—Karen M. Rider, M. A., Sacred Rivers Yoga Teacher Training Program
"Susi's presentation is simple to understand and very clear . . . This is a great book and will be helpful for teachers and serious students. I think Anatomy and Asana should be on required reading lists for yoga teacher training programs. It has tremendous value as an anatomy primer."
—Margot Kitchen, Senior Iyengar Teacher
"I love the clarity and insight of Susi's applied anatomy. She goes right to the key areas of relevance for yoga practitioners and offers her years of skilled knowledge in potent synthesized and visual material that will benefit students and teachers from all backgrounds. Highly recommended!"
—Shiva Rea, Yoga Teacher
"As a yoga teacher of six years, I found Anatomy and Asana: Preventing Yoga Injuries to be extremely helpful. It came to me at the perfect time when I was eager to expand my knowledge of anatomy and the practice of yoga asanas. I wanted to learn more about the individual muscles used in different poses, the proper alignments for preventing injuries, and the physiological occurrences in the body with the movements of a yoga practice. This book satisfied all these wants. The detailed and easy to follow drawings were clearly presented. Helpful exercises are provided to expand your awareness of particular areas. I found myself lingering in sections of the book, trying out and exploring deeper areas of the body with my yoga sessions. My fellow yogis really enjoy all the new opportunities to explore their bodies more deeply. This is a book I will use as a resource after I re-read it several times, as it is packed with information. It is an excellent resource for both teachers and students of yoga who wish to further their understanding of the anatomy behind their practice."
—Terry Burgess, Drop-In Yoga, Takaka, Golden Bay, New Zealand
---
Other Titles from Eastland Press