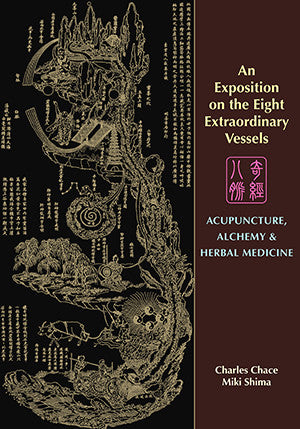 502 pages, 7" x 10"
Smyth-sewn softcover
ISBN: 0-939616-69-6
978-0-939616-69-5
An Exposition on the Eight Extraordinary Vessels: Acupuncture, Alchemy, and Herbal Medicine
About eBook Format
PDF

This eBook is available exclusively as a PDF and is readable with the free Javelin PDF Reader, accessible from your Account page after purchase. See eBook FAQs for details.
Description
Li Shi-Zhen's Exposition on the Eight Extraordinary Vessels (Qi jing ba mai kao) is among the most remarkable texts in the Chinese medical literature. Bringing together writings on acupuncture, herbal medicine, and internal cultivation (nei dan), it argues that aspiring adepts and physicians alike must understand the full scope of the extraordinary vessels if they hope to achieve their respective goals. 
Although the Exposition is a cornerstone of the extraordinary vessel literature, it is rarely, if ever, considered on its own terms. Li's approach to extraordinary vessel acupuncture and herbal medicine reflects a perspective that differs considerably from the strategies familiar to most modern readers. His work on the extraordinary vessels is every bit as innovative in its own milieu as his other seminal writings, Pulse Studies of the Lakeside [Recluse] (Bin-Hu mai xue) and Comprehensive Outline of the Materia Medica (Ben cao gang mu), are in theirs.
This volume is the first translation of and commentary on the Exposition published in English, and it is among the most comprehensive discussions of the text available in any language. It is divided into five parts. Part I provides an introductory overview of the main themes running throughout the text: theory, acupuncture, herbal medicine, internal alchemy, and pulse diagnosis. Part II contains the Chinese text and translation of the Exposition itself. Part III presents extensive commentaries on the text, and Part IV discusses the influence of Li Shi-Zhen's extraordinary vessel writings on subsequent pre-modern and modern physicians. Part V consists of appendices containing tables of herbs, prescriptions, acupuncture holes, and the people and books mentioned in the Exposition. There is also an extensive bibliography, point/hole and herb/formula index, and general index.
Contents
Part I Preliminaries
Introduction Biographical Sketch of Li Shi-Zhen 
Theoretical Considerations 
Li Shi-Zhen's Extraordinary Vessel Acupuncture 
Herbal Considerations 
Keeping to the One: Internal Alchemy in Exposition on the Eight Extraordinary Vessels 
An Overview of Extraordinary Vessel Pulse Diagnosis

Part II Exposition on the Eight Extraordinary Vessels
Prefaces 
An Overview of the Eight Extraordinary Vessels 
The Eight Vessels 
The Yin Wei Vessel 
The Yang Wei Vessel 
Diseases of the Two Wei 
The Yin Qiao Vessel 
The Yang Qiao Vessel 
Diseases of the Two Qiao 
The Chong Vessel 
Diseases of the Chong Vessel 
The Ren Vessel 
Diseases of the Ren Vessel 
The Du Vessel 
Diseases of the Du Vessel 
The Dai Vessel 
Diseases of the Dai Vessel 
The Pulses of the Nine Pathways of the Qi Opening 
An Explanation of Pronunciation

Part III Commentary on Exposition on the Eight Extraordinary Vessels
On the Overview of the Eight Extraordinary Vessels 
On the Eight Vessels 
On the Wei Vessels 
On Diseases of the Two Wei 
On the Qiao Vessels 
On Diseases of the Two Qiao 
On the Chong Vessel
On Diseases of the Chong Vessel 
On Diseases of the Ren Vessel 
On the Du Vessel 
On Diseases of the Du Vessel 
On the Dai Vessel 
On Diseases of the Dai Vessel 
On the Pulses of the Extraordinary Vessels

Part IV Legacy of Exposition on the Eight Extraordinary Vessels
Along the Grand Thoroughfare: Luo Dong-Yi's Vision of Extraordinary Vessel Function 
Ye Tian-Shi's Contributions to Extraordinary Vessel Therapeutics 
Shen Jin-Ao's Contributions to Extraordinary Vessel Therapeutics 
Modern Extraordinary Vessel Case Records 
Vessels Wide Shut: Li Shi-Zhen's Qiao Vessel Pathodynamics 
Master Hu's Process: The Seeds of Internal Cultivation through the Extraordinary Vessels

Part V Appendices
Acupuncture Holes of the Extraordinary Vessels 
Extraordinary Vessel Herbal Formulas 
Single Medicinals Entering the Extraordinary Vessels 
Li Shi-Zhen's Synopsis of Extraordinary Vessel Pulses from Pulse Studies of the Lakeside Master 
Editions of Exposition on the Eight Extraordinary Vessels 
People and Texts Appearing in Exposition on the Eight Extraordinary Vessels
Notes 
Bibiliography 
Herb and formula index 
Hole/point index 
General index
Reviews
"Chace and Shima suggest that Li [Shi-Zhen] reflected the mindset of his times, one of 'inquiry, of testing and questioning the suppositions of previous ages'. Whilst this may have been the case it was clearly expedited with the greatest of respect to his sources. These same respectful qualities pervade this book, gently and dutifully turning the stones but yet still asking open and penetrating questions of what is found beneath. . This [book] constitutes both a major milestone and signpost, and can be heartily recommended as both."
—Merlin Young, The Journal of Chinese Medicine
---
Other Titles from Eastland Press