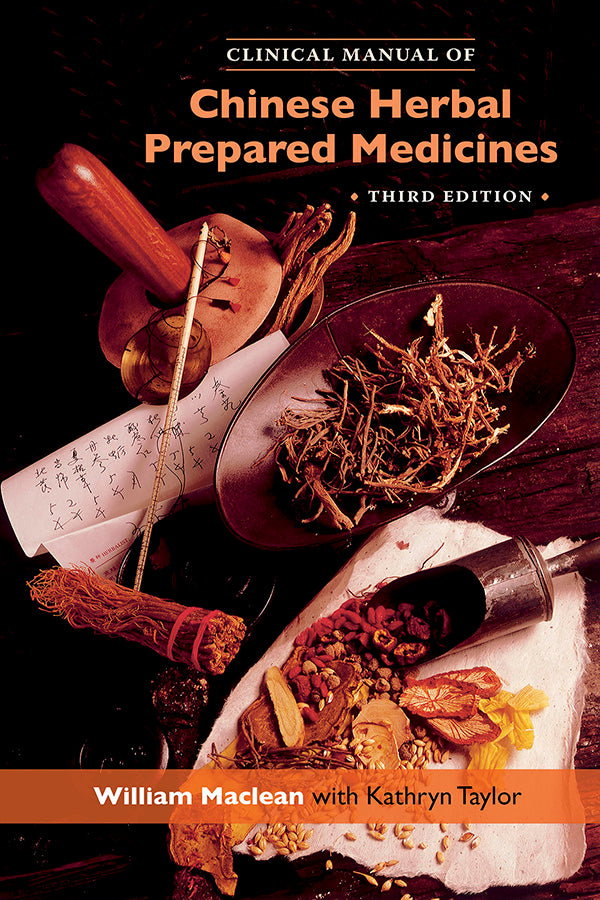 689 pages, 6" x 9"
585 illustrations
Smyth-sewn softcover
ISBN: 978-0-939616-90-9

Clinical Manual of Chinese Herbal Prepared Medicines (3rd Ed.)
About eBook Format
PDF

This eBook is available exclusively as a PDF and is readable with the free Javelin PDF Reader, accessible from your Account page after purchase. See eBook FAQs for details.
Description
Clinical Manual of Chinese Herbal Prepared Medicines, substantially revised and enhanced in this 3rd edition, is the most comprehensive and up-to-date guide to the best prepared medicines available on the market. It describes the actions (TCM and biomedical), indications, ingredients, dosage, combinations, and contraindications of hundreds of ethical and pure, commercially prepared herbal medicines. User-friendly and clinically oriented, with many helpful pattern-related illustrations, this book is an essential addition to the library of every acupuncturist and Chinese herbalist.
For many practitioners, prepared medicines are the foundation of their herbal practice. Correctly used, they can be as effective as raw herb decoctions for many common conditions. They also provide improved compliance, relatively low cost, and a high degree of quality control.
Included in this volume:
• 330 medicines considered from a practitioner's perspective
• Graphic representations of the pattern-identifying features of each medicine
• Comparisons among similar medicines
• Elaborate symptom index for differentiation of medicines
• Glossary of Chinese medical terminology
• Table of possible herb-drug interactions
Contents
Introduction
• Quality Considerations
• Ethical Considerations
• Selection of Formulas
• The Factories
• Arrangement of Categories
• Layout of the Text
• Using a Specific Medium to Take the Medicine
• General Rules for Taking Prepared Medicines
• Buying Prepared Medicines
Chapters
1. Gynecological
2. Gastrointestinal
3. Respiratory
4. Genitourinary
5. Cardiovascular
6. Liver & Gallbladder
7. Tonics
8. Shén
9. Ear, Nose, Throat, Eyes
10. Pain & Trauma
11. Men's Health
12. Pediatric
13. Skin
14. Infection & Inflammation
15. Wind & Yang
Resources
• Potential Herb Drug Interactions
• Comparisons Between Selected Medicines
• Glossary
• Symptom Index
• Prepared Medicine Index
• Bibliography and References
• About the Authors
View a detailed table of contents (PDF)
Authors
William Maclean is a graduate of the New South Wales College of Natural Therapies (Diploma of Traditional Chinese Medicine, 1987) and the University of Technology Sydney (M.Sc Traditional Chinese Medicine, 2004). Will interned at the Red Cross Hospital in Hangzhou, China, and apprenticed for several years under the renowned Chris Madden. Will is the author of the Clinical Handbook of Chinese Herbs. He is also the co-author of Clinical Handbook of Internal Medicine: The Treatment of Disease with Traditional Chinese Medicine (2nd Ed). Will has taught widely in Australia, Europe and the U.S., and while recently retired from nearly thirty years of clinical practice, maintains an ongoing interest in the development of strategies for the understanding and treatment of chronic infection (lingering pathogens) and chronic inflammatory disorders.
Kathryn Taylor is a graduate of the University of Technology Sydney (Bachelor of Health Science in Acupuncture, 1997), Sydney College of Chinese Medicine (Diploma of Traditional Chinese Medicine, 1999), University of Western Sydney (Masters of Traditional Chinese Medicine, 2004; Bachelor of Nursing, 2015) and Charles Sturt University (Graduate Diploma of Midwifery, 2017). She is the co-author of Clinical Handbook of Internal Medicine: The Treatment of Disease with Traditional Chinese Medicine (2nd Ed). She practiced as a women's and children's health care clinician for over 20 years. Kathryn currently works as a midwife in a Sydney tertiary public hospital integrating evidence-based acupuncture and complementary medicine into maternity care, and maintains a private Chinese medical practice in the beautiful Blue Mountains to the west of Sydney.
---