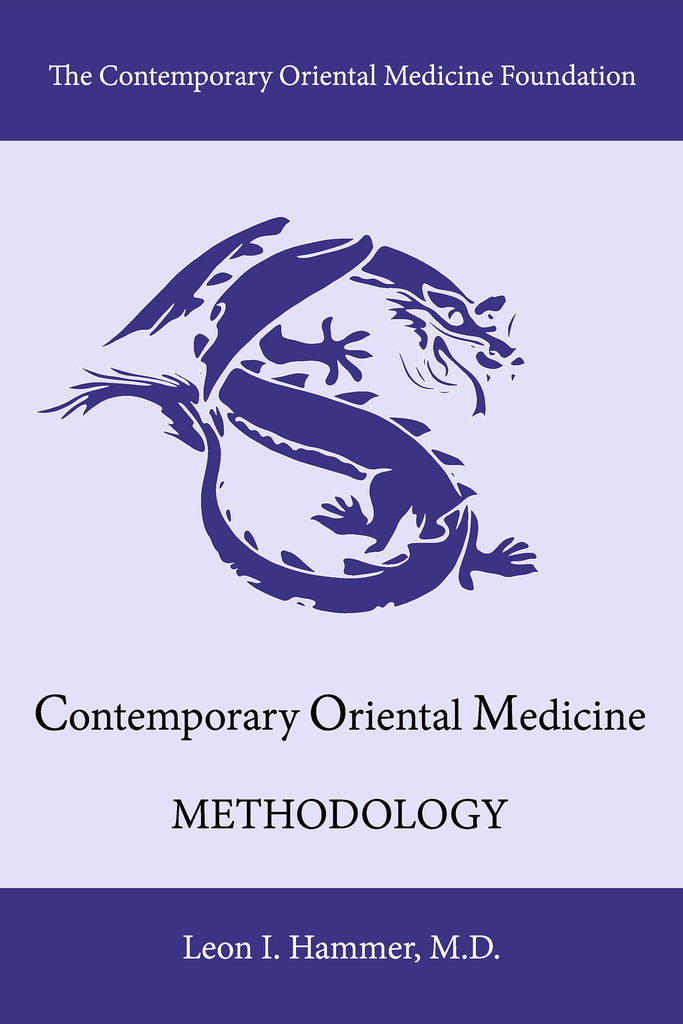 238 pages
ISBN: 978-1-66784-756-6

Contemporary Oriental Medicine: Methodology
About eBook Format
PDF

This eBook is available exclusively as a PDF and is readable with the free Javelin PDF Reader, accessible from your Account page after purchase. See eBook FAQs for details.
Description
Following on from Concepts, the first book in his Contemporary Oriental Medicine series, Leon Hammer, M.D., presents Methodology: an essential examination of the full diagnostic and management process. He focuses on the three key stages—acquisition, assessment, and management—and describes each using a complete and thorough case history.

Methodology follows one patient, from her initial interview to her treatment plan and beyond, and describes in great detail the reasons, explanations, and importance of every step of the process. Highlighting Dr. Hammer's focus on each patient as an individual, and the necessity of determining the true root of each condition, Methodology provides an invaluable guidebook to any practitioner of Oriental medicine. It offers a framework to allow practitioners to understand better the information they gather from patients, and multiple ways they can increase and enhance the quality and quantity of that information.

Whatever your style of medicine, you will find this book a vital companion and the key to many of the puzzles of practice.
Contents
Acknowledgment
Table of Contents
Purpose
Introductory Section
Preface
Editor's Note
Overview
Awareness
Acquisition Section
Interview Process
Pulse Diagnosis
Signs & Symptoms
Initial Interview
Assessment Section
Symptom-Condition Chart
Diagnostic Catalogue
Management Section
Management Formulation
Management Implementation
Herbs
Acupuncture
Feedback
End of the Day
Appendices
Aggravation and Amelioration
Example Questions
Inspection
Root Issues
List of Symptoms
Birth History
Bentonite Clay
Chinese Medicine at the Crossroads
Endnotes
Bibliography
Index
Reviews
Dr. Leon Hammer's new book, Contemporary Oriental Medicine: Methodology offers many opportunities for learning about the Dao of Oriental Medicine. Primarily dealing with the clinical interview [to ask] and pulse examination [to feel], it focuses on the two diagnostic methods that are intimately involved with the mechanisms by which Oriental Medicine is able to lead to healing. The very first topic covered is "awareness". Awareness blossoms in the experience of both the patient and the practitioner in this process, and both parties actually receive benefits from this mutual encounter of two peoples' consciousnesses. I was myself taught by my Ayurvedic teacher that healing begins when the trained practitioner examines the pulse, well before any other therapeutic intervention is initiated. As an added note, I was surprised to discover that Dr. Hammer's style of herbal prescription evolved from his earlier Chinese style [for which he was a recognized authority] to the Japanese Kampo style [illustrated in a clear case history], which he discovered to be even more efficacious. Such flexibility and humble acknowledgment that learning is a lifelong endeavor provides an inspirational lesson for us all.
—Peter Eckman, MD, PhD, MAc (UK)
Author, The Compleat Acupuncturist

"Without asking, there is nothing to listen to." So begins Dr. Leon Hammer's new book in the series examining the art of Contemporary Oriental Medicine. This book is an in-depth, step-by-step examination of the diagnostic process by one of our living treasures in the field. In so doing, he inspires the clinician to stay curious, to stay open, to stay compassionate, to "listen with the third ear" and "look with the third eye" in order to gather information about a patient that will enable effective treatment. As Dr. Hammer says, "we need to have our feet on the ground in order to have our heads safely in the skies." This is a manual for training the master clinician and will be an invaluable addition to the library of any serious practitioner of Chinese medicine who has been called to heal the suffering and nourish health.
—Stephen Scott Cowan, MD, FAAP
Author, Fire Child Water Child

After half a century of immersion in the intricate world of Oriental medicine, Dr. Leon Hammer has synthesized a lifetime of educational and clinical experience in this gem of a book. Contemporary Oriental Medicine: Methodology leads us step-by-step toward the goal of becoming high-level Oriental medicine practitioners who embrace our discipline as a science in its own right. A systematic introduction to the clinical practice of Oriental medicine in the 21st century by a true master!
—Heiner Fruehauf, PhD
Founding Professor, College of Classical Chinese Medicine
---