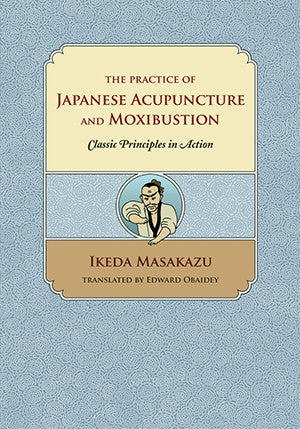 319 pages, 7" x 10"
Smyth-sewn softcover
ISBN: 0-939616-43-2
978-0-939616-43-5
The Practice of Japanese Acupuncture and Moxibustion: Classic Principles in Action
About eBook Format
PDF

This eBook is available exclusively as a PDF and is readable with the free Javelin PDF Reader, accessible from your Account page after purchase. See eBook FAQs for details.
Description
The Practice of Japanese Acupuncture and Moxibustion: Classic Principles in Action is an in-depth introduction to a form of treatment practiced in Japan that is based on the classics of Oriental medicine. It provides a bridge for traditionally trained students and practitioners who are having difficulty transferring their knowledge of Japanese acupuncture and moxibustion into clinical practice, and will inform the reader's work with the breadth and depth of the classics. It is a very popular book in Japan. 
Part One provides the basic information needed to understand and diagnose the most common patterns of disease. Part Two sets forth guidelines for treating a wide variety of disorders including those affecting the musculoskeletal, nervous, respiratory, cardiovascular, and urogenital systems. Case histories and drawings vividly illustrate the theoretical discussion of each disorder and its treatment. An introduction by the translator illuminates certain aspects of this work which may be unfamiliar to students in the West.
Contents
Translator's Introduction
Part One
Therapeutic Guidelines 
Lung Deficiency/Yang Excess/Heat Pattern 
Spleen Deficiency/Yang Excess/Heat Pattern 
Lung Deficiency/Yang Deficiency/Cold Pattern 
Kidney Deficiency/Yang Deficiency/Cold Pattern 
Spleen Deficiency/Kidney Deficiency/Cold Pattern 
Spleen Deficiency/Yang Deficiency/Cold Pattern 
Liver Deficiency/Yang Deficiency/Cold Pattern 
Spleen Deficiency/Liver Excess/Heat Pattern 
Spleen Deficiency/Liver Excess/Blood Stasis Pattern 
Lung Deficiency/Liver Excess/Blood Stasis Pattern 
Liver Deficiency/Yin Deficiency/Heat Pattern 
Kidney Deficiency/Yin Deficiency/Heat Pattern 
Spleen Deficiency/Yin Deficiency/Heat Pattern
Part Two
Introduction to Clinical Studies 
Neuromusculoskeletal Diseases 
Respiratory Diseases 
Circulatory Diseases 
Diseases of the Digestive Tract and Related Complaints
Urogenital Diseases 
Women's Diseases 
Neurological and Psychological Disorders 
Miscellaneous Disorders
Bibliography
Point Index
Herb & Formula Index: English & Chinese
General Index
Reviews
"A beautifully produced book designed by the award-winning Gary Niemeier for Eastland Press, and a joy to read. Rich with nourishing clinical advice."
—Steve Clavey, The Lantern
---
Other Titles from Eastland Press