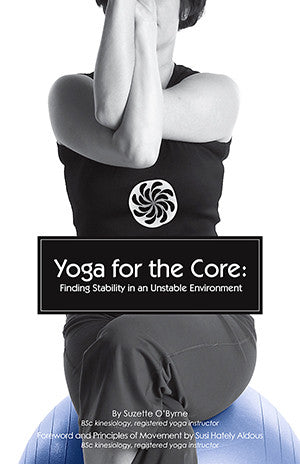 104 pages, 5.5" x 8.5"
98 photos & illustrations
spiral bound
ISBN: 0-939616-59-9
978-0-939616-59-6
Yoga for the Core: Finding Stability in an Unstable Environment
Description
The core itself is the root of our being, the center of our balance, and in a healthy body is also the root of our movements. Many of us know how to train the "outer core" but are disconnected from our "inner core." By learning how to reconnect to your inner core, you can prevent/recover from injuries, improve your posture, enhance athletic performance and create more efficient movement patterns. 
In this book you will learn:
how to cultivate your core 
the difference between the inner and outer core 
how to develop strength and ease in both 
how to improve pelvic stability 
the importance of diaphragmatic movement to stability of the core 
the difference between pilates and yoga breathing 
the connection between poor core stability and injury 
how to recover from injury by improving core stability 
practices that will progressively stabilize and strengthen your core
Suzette is a yoga therapist, pilates instructor, and kinesiologist. She has an extensive background in personal training, and is a trainer of trainers. Her experience has shown that people often work too hard at core stability, and instead create rigidity. Rather than cultivating suppleness they create hardness. These two things, rigidity and hardness, prevent you from tapping into the true wisdom of your body.
Contents
Foreword 
Introduction 
The Eight Principles of Movement 
The Inner and Outer Core 
Releasing the Outer Core "Helpers" 
Building Stability 
The Stability Ball and the Core 
The BOSU Balance Trainer, Foam Roller, or Body Weight Putting Stability into Practice 
References 
Index
Reviews
"Yoga for the Core is an important contribution for not only yoga teachers and students, but anyone working in the movement therapies. Too frequently "train the core" has been misdirected to become "rigidity is good." This insightful work states plainly and concisely how yoga reveals the sources of instability, from subtle awarenesses to physical weakness and loss of perception. The clearly stated concepts are backed by prudent and comprehensive instructions for developing a yoga program for stability, including awareness journaling. This book is a must-have for trainers, physical therapists, physical education instructors, and serious students of movement."
—Matthew J. Taylor, PT, PhD, RYT
"You may have opened this book to relieve issues related to back pain, or to improve your yoga practice as a yoga teacher or student, or you may simply want to become stronger, to become more mobile, and to move around with greater ease. Whatever your situation, you've got a great book in your hands. Suzette is one of the best."
—Susi Hately Aldous, author, Anatomy and Asana: Preventing Yoga Injuries
---
Other Titles from Eastland Press