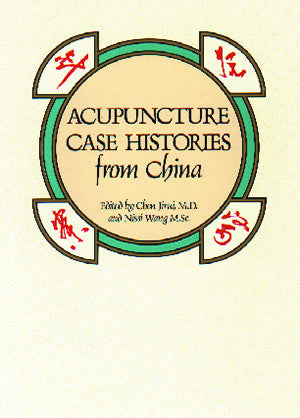 300 pages, 7" x 10"
original brush calligraphy
Smyth-sewn softcover
ISBN: 0-939616-44-0
978-0-0939616-44-2
Acupuncture Case Histories from China
About eBook Format
PDF

This eBook is available exclusively as a PDF and is readable with the free Javelin PDF Reader, accessible from your Account page after purchase. See eBook FAQs for details.
Description
This book marks the first original collection of acupuncture case histories in English. Included are over one hundred case histories contributed by prominent practitioners of acupuncture in China. The case histories represent a broad spectrum of disorders for which acupuncture is used in contemporary China.
Each of the case histories provides a thorough discussion of the traditional Chinese diagnosis and syndrome differentiation, together with the points and techniques selected for treatment. The course of therapy is described, and alterations in the diagnosis and treatment regimen are analyzed. The results of treatment­-both favorable and unfavorable-­are noted.
An introduction compares and contrasts many of the treatment techniques and types of points used in the cases. 
Contents
General Internal Medicine 
Neurological Disorders 
Pain Disorders of the Eyes, Ears, Nose and Throat 
Disorders of the Skin 
Women's Disorders 
Children's Disorders 
Frequency of Treatment 
Treating the Individual 
The Acupuncture Prescription 
Needling Methods 
Moxibustion 
Point Index
Reviews
"A particularly valuable contribution to the advance of acupuncture in the West. Useful both to students as well as established practitioners."
—American Journal of Acupuncture
"This highly recommended book offers a very revealing, over-the-shoulder look at the work of several contemporary Chinese acupuncturists."
—CCA Phoenix
"One of the most interesting and valuable acupuncture books yet published in English."
—The Journal of Chinese Medicine
---
Other Titles by Nissi Wang